Associate membership offers those from the supply chain the opportunity to come together with both research and industry, and vice-versa. As such, our associate members are an important part of successful technology transfer and, as such, bring an invaluable contribution to our community.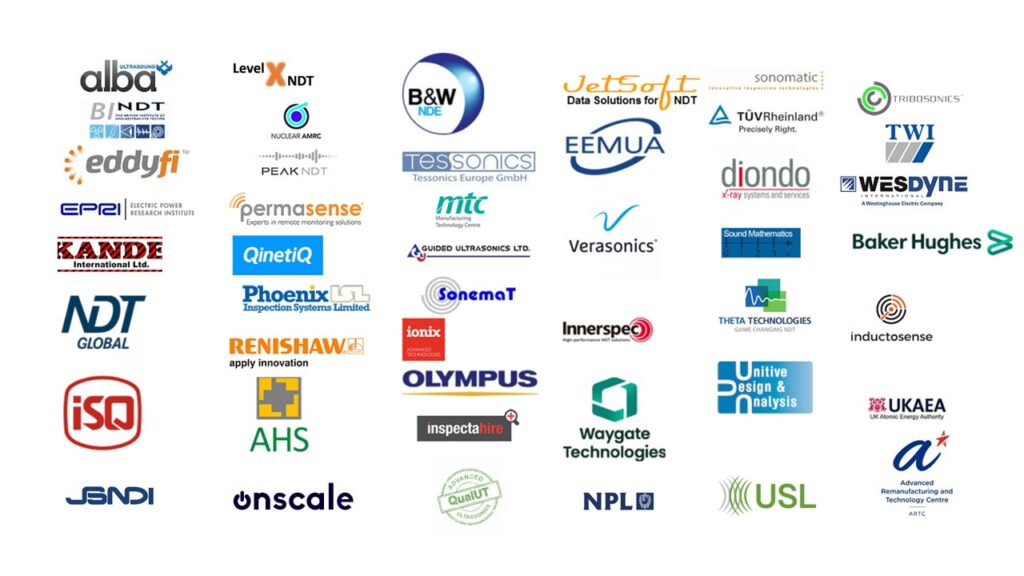 Advanced Halls Sensors – Design and manufacture of high-performance Hall sensors.
Alba Ultrasound – Manufacturer of ultrasonic transducers and arrays, supplying the NDE community.
Australian Rail Track Corporation (ARTC) – Australian government-owned organisation contributing to the transport supply chain.
Baker Hughes – Providing the oil and gas industry with products and services for oil drilling, formation evaluation, completion, production and reservoir consulting.
Baugh & Weedon – Manufacturer of Non-Destructive Testing (NDT) and measurement equipment, systems, service and calibration, consumables and accessories.
British Institute of Non-Destructive Testing (BINDT) – Professional body for engineers and technical professionals involved in non-destructive testing and condition monitoring in the UK.
Diondo – Providing innovative and application-specific industrial computerised tomography (CT) solutions.
Dolphitech – Ultrasonic matrix imaging technology to inspect and detect damage, degradation and defects in mission-critical assets.
Eddyfi Technologies –  Supplier of Non-Destructive Testing (NDT) inspection technologies, focusing on advanced phased array UT, eddy current array and ultrasonic and electromagnetic equipment.
Engineering Equipment and Materials Users Association (EEMUA) – International membership body for owners and operators of fixed industrial assets.
Electric Power Research Institute (EPRI) – Independent American not-for-profit organisation that conducts research and development related to the generation, delivery and use of electricity. 
Guided Ultrasonics ltd (GUL) – Provider of guided wave pipe testing equipment, training and services.
Inductosense – Offering a streamlined monitoring approach using innovative ultrasonic sensing technology for non-destructive testing of structures.
Innerspec UK – Developers of high-power ultrasonic instrumentation for NDT applications.
Inspectahire – Hiring a range of equipment for inspection services, with a focus on remote visual inspections (RVI).
Ionix Advanced Technologies – Ultrasonic sensors and systems solutions based on the HotSense™ platform for in-service, high temperature monitoring and inspection.
ISQ – Uses a range of advanced NDT to inspect materials, equipment and structures that cannot be achieved using conventional non-destructive testing techniques.
Japanese Society for Non-Destructive Inspection (JSNDI) – Focused on exchanging Non-Destructive Testing (NDT) know-how to facilitate and promote research and transfer technology.
JetSoft – Providing engineering solutions to improve the capture, management and utilisation of quality control information.
KANDE – Development, assessment and application of advanced non-destructive testing methods for pressure systems and engineering components, particularly ultrasonic (UT) and radiographic (RT) inspection techniques.
Level X NDT – Provides specialist engineering consultancy services to companies supplying or using non-destructive testing equipment.
Manufacturing Technology Centre (MTC) – Independent RTO with the objective of bridging the gap between academia and industry.
National Physical Laboratory (NPL) – The UK's National Metrology Institute, developing and maintaining the national primary measurement standards.
NDT GlobalServices – Specialist Non-Destructive Testing (NDT) and inspection company, providing innovative engineering and services for a range of industries including oil, gas, chemical and offshore.
Nuclear Advanced Manufacturing Research Centre (AMRC) – Helps UK manufacturers to win work across the nuclear sector – in new build, operations and decommissioning.
Olympus NDT – Offers the latest in inspection technology, including flaw detectors, thickness gauges, transducers, probes, and more to help meet global inspection requirements.
Ondia – Provides NDT data analysis using Artificial Intelligence (AI), data visualisation and analysis tools, and a cloud-based app for project and data management.
OnScale – A cloud-based engineering simulation platform, combining multiphysics solver technology with the computational power of cloud technology.
Peak NDT – Specialises in the development, manufacture and support of multichannel and phased array ultrasound controllers for use in the Non-Destructive Testing industries.
Permasense – Wireless integrity monitoring system that uses state-of-the-art technology to continuously monitor pipework wall thickness in real-time.
Phoenix Inspection Systems Ltd – Specialists in design and manufacture of ultrasonic non-destructive testing inspection solutions for corrosion mapping, crack detection, weld testing and composite inspection.
QinetiQ – Research and development specialists for the defence sector, fast-tracking innovation and offering experimentation facilities as well as technical, engineering and scientific expertise.
Qualut – Advanced ultrasonic specialists providing independent advice and support throughout the NDT supply chain, helping to add value at each point from equipment manufacturers to end-users and service companies.
Renishaw – High precision metrology and healthcare technology group, delivering solutions and systems that provide precision, control and reliability.
SonemaT – Experts of EMATs (Electromagnetic Acoustic Transducers) with experience in EMAT manufacture and research and development for challenging inspections.
Sonomatic – Combines data science with cutting-edge integrity engineering capabilities to design, develop and deliver NDT inspections.
Sound Mathematics – Software for modelling ultrasound, with applications to ultrasonic NDE (Non-Destructive Evaluation).
Tessonics Europe – Solutions for non-destructive testing (NDT) using ultrasound for resistance spot welding points and adhesions, especially for the automotive industry.
Theta Technologies – Patented technology that enables rapid flaw detection, offering a reliable, fast, production-ready and cost-effective Quality Assurance system.
Tribosonics – Enabling transformation in the power generation, transportation and manufacturing industries by deploying their technology stack in customers' applications.
TUV Sonovation – Advanced non-destructive testing (NDT) services for the oil and gas industries.
The Welding Institute (TWI) – Independent research and technology organisation, with expertise in materials joining and engineering processes.
United Kingdom Atomic Energy Authority (UKAEA) – UK government research organisation responsible for the development of nuclear fusion power.
Unitive Design – Experts in imaging, sensing, motion control and systems design, with experience at all levels of the imaging supply chain.
Ultrasonic Sciences Ltd (USL) – Specialists in the design and manufacture of ultrasonic instrumentation and bespoke automated NDT inspection systems.
Verasonics – Designs leading-edge Vantage ultrasound research systems for academic and commercial investigations.
Waygate Technologies – Intelligent, connected technologies to sense, monitor, control and inspect infrastructures.
WesDyne – Supplier of mechanised non-destructive examination (NDE) products and services for inspection, providing both turnkey and one‑off solutions.