Spatially Resolved Acoustic Spectroscopy-SRAS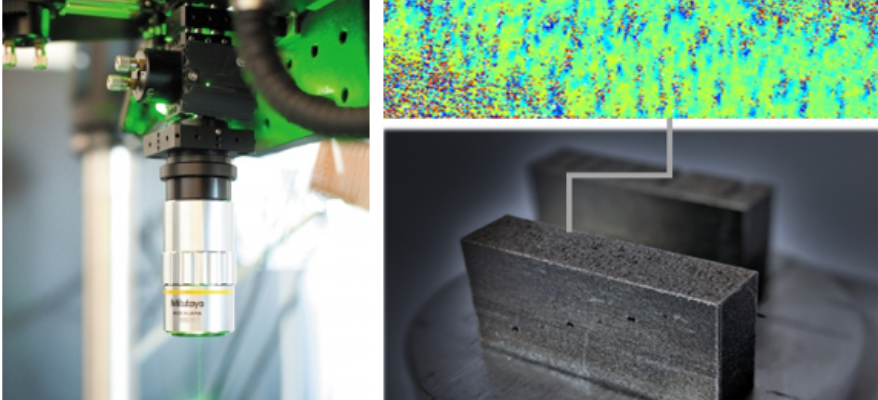 Developed by the University of Nottingham's Optics and Photonics Research Group led by Professor Matt Clark, SRAS (Spatially Resolved Acoustic Spectroscopy) is a technique that can rapidly map the surface grain structure of materials, giving reliable and accurate data about shape, size and orientation of each grain. The technique is non-destructive, fast and can operate on any size sample, limited only by handling, allowing evaluation on a wide variety of surface finishes, at any stage of manufacture, and on complex geometries, such as on curved surfaces. This meant that, for the first time, large components could be imaged locally and (re)enter service with the consequent cost savings for companies.   
The evolution
Since SRAS was first conceived in the early 2000, the team have continued to develop its functionality. Two RCNDE3 (2014-2020) core projects specifically focused on non-destructive evaluation techniques for advance manufacturing ("NDE for AM" and its follow-up project "NDE driven AM") provided the Nottingham team with valuable funding and support to develop the SRAS technology. The main outcome was on the development and refinement of a rough surface capable SRAS system and subsequent integration into an AM build chamber in the first project.  
Additional RCNDE funding in the form of feasibility studies allowed the team to further explore the technology's capabilities. The project "ModSRAS" (2018) focused on making a more compact and modular optical system. It was done in collaboration with a US start-up company Coherent Phonon Imaging (CPI) and involved an element of tech transfer. The feasibility study SRAS++ (2019) extended SRAS's capability to include the measurement of the single crystal elasticity matrix, Cij. This study has shown promising results and a full EPSRC proposal with in collaboration with some of RCNDE academic and industry members is currently being prepared.   
Applications
The SRAS technology has been widely used in advanced engineering metals, as it is the most effective, non-destructive, evaluation technique for imaging the microstructure of materials, such as titanium, nickel, steel, aluminium and silicon, which are difficult to inspect and if faulty can lead to catastrophic engine failure. It is also compatible with on-line inspection during manufacture, and SRAS has a role in the assessment of additive manufacturing in evaluating and detecting defects during manufacture and for providing on-line assessment of the microstructure. The aerospace industry where safety is paramount was one of the first sectors in trialling SRAS and the researchers partnered with industry leaders such as Rolls-Royce to further develop the technology. The company sponsored an EngD student through RCNDE's aligned Centre for Doctoral Training to develop non-destructive methods of inspecting Additive Layer Manufactured (ALM ) products. Other collaborations include the licencing of the technology to CPI in 2018, which has a growing order book, and two more EngD students sponsored by Renishaw, one of RCNDE's Associate members that specialises in metal additive manufacturing.